Friday, September 23, 2011
Charles Lester Steps into Coastal Commission Executive Director Role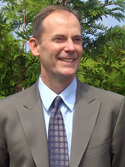 The
California Coastal Commission appointed Charles Lester
as the new Executive Director of the agency, following the recent retirement of long time Coastal Commission leader Peter Douglas. Lester was the Acting Deputy Director of the Central Coast District under Douglas and stepped in to fill the role of interim Executive Director. Peter Douglas recommended Charles Lester as his successor when he announced his retirement. On September 8, 2011, the interim appointment was made permanent.
Lester has been working for the California Coastal Commission for the past 14 years. He has also served as District Manager of the Central Coast, which includes the coastal zones of Santa Cruz, Monterey and San Luis Obispo Counties as well as the incorporated coastal cities in these counties.
Charles Lester's background and expertise in coastal policy makes him a very good fit for the appointment. He received his Bachelor's degree in geochemistry from Columbia College in New York City. He attended the University of California Berkeley for law school and a Ph.D. in Jurisprudence and Social Policy in 1992. His doctoral dissertation evaluated the implementation of the Federal Offshore Oil and Gas Program. Prior to taking his current position with the California Coastal Commission, he was a professor of environmental policy and law at the University of Colorado at Boulder.
Lester made a
statement
regarding his new role: "I am deeply committed to implementing the Coastal Act, but I am also a problem-solver, and I look forward to bringing people together around environmentally sustainable solutions that protect coastal resources and provide maximum public access to the coast for all Californians."
Labels: CCC